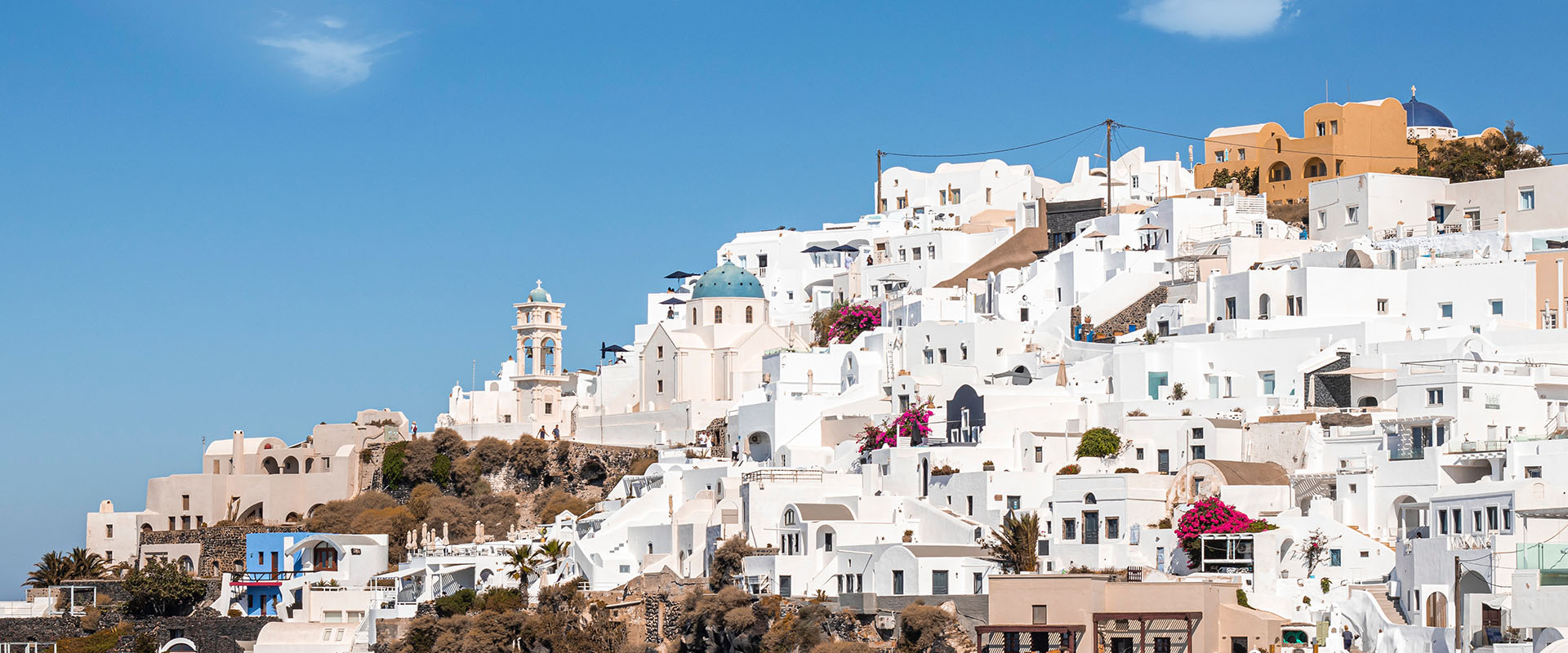 The village of Imerovigli, also known as "The balcony to the Aegean", is built on the highest point of the caldera cliffs, about 300 meters above sea level. It is situated at the north part of the island, 3 kilometers from the capital of Fira. Its position provides a magnificent view of the famous volcano, the sparkling Aegean Sea and the sunset that is out of this world.
The notable attraction of the village is the famous, immense rock called Skaros that lies on the seaward side. It is of paramount importance since it was one of the five fortresses of Santorini and the most significant one. It was once an observation post providing security from pirates. Today one can admire the remains left after the earthquake of 1817 and, of course, a striking view from the top. In Skaros, the symbol of Santorini, you can experience hiking as well.
There are numerous churches and chapels in Imerovigli, among them the prominent church of Panagia Malteza and the chapel of Panagia Theoskepasti, built on the cliff edge in front of Skaros offering a unique panaromic view of the caldera. Furthermore, you can visit the female monastery of Agios Nikolaos, situated between the villages of Imerovigli and Firostefani, which hosts a folklore museum and an ecclesiastical museum with rare Byzantine icons.
Imerovigli is an ideal choice for a private, romantic holiday filled with tranquility. It forms an impressive scenery of whitewashed houses, flowers and cobblestone alleys. You can wander through the peaceful, paved paths away from the hustle and the bustle. It promises priceless, relaxing moments and a view you cannot resist. Here you can unwind in the traditional taverns, restaurants and cafes with lovely terraces.
Enjoy a delightful stay in Imerovigli in five-star hotels, villas, deluxe resorts with swimming pools standing on the cliff edge, but also in cozy family-run hotels, studios, apartments and rooms to let.
Imerovigli is easily accessible by car, taxi and bus or on foot, if you are keen on walking, from Fira.